As the New Year approached, I began reading blogs, FB post and Tweets discussing individual's "word" for the year.  It made me think. I, too, have a "word" for the year.  I have for several years, but I have never labeled it as that. I know God has dropped words into my heart for me to concentrate on throughout the year, and I have seen the fruit of heading those words. Some of my words have been: Thankful, Deliberate...and, of course...Intentional...I've been here for a few years now! ;)
As I was praying about direction for our family in this New Year, God dropped His "word" into my heart.  I knew it immediately. So in the middle of a Youth Discipleship Weekend,when I least expected it, I began writing.
FAITHFUL
For me, Faithful means MY Faithfulness to God and His call on my life...not His Great Faithfulness to me, although it is only through His faithfulness that I can be and do all I am called to be and do.  The Lord has impressed upon my heart to walk in Faithfulness in every area of my life...from family & friends to ministry & laundry& homeschooling. It's Tenacity...Giving My All...Doing Every Thing I Do "As Unto the Lord."
His master said to him, 'Well done, good and faithful servant. You have been faithful over a little; I will set you over much. Enter into the joy of your master.' (Mat 25:21)
Don't misunderstand...I am not a flake, I just need to be Intentionally Faithful...to recognize the Follow-through, the Fruit, and the Why to what I am doing and who I am. To live each day Faithful to God's Word with resolve...especially in the little things.
I am linking up with Rachel at It's Our Long Story just as a form of accountability.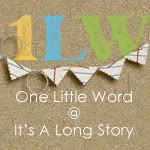 What has God been speaking to your heart so far this year? Won't you share...