Faithful...It's My One Word this Year.  You can read why here. This past weekend I attended a Mom Heart Conference with Sally Clarkson.  It was my seventh year to attend and as always...the Lord spoke to my heart.
I have been feeling, for some time now, that I desperately needed to "connect" with my sweet and precious daughter.  Don't get me wrong, we love to laugh, sing and talk with one another...but I have been feeling that it's harder to truly connect...heart to heart.  I have been seeking the Lord in prayer about this situation and feeling very desperate.  I felt like time was slipping away like the sands of an hour-glass and that, as the quote from Hook goes, "Your missing it."
This weekend, the Lord gently and graciously showed me that Hallie is ONLY 8! He reminded me that there is time...that He is a redeemer of time and would work a great work in and through us. He is FAITHFUL.
For me...I need to continue to FAITHFULLY seek His guidance...FAITHFULLY seek out opportunity to bond...FAITHFULLY praise Him for every moment I have with my precious daughter. I want to be a FAITHFUL steward of my time with my children.  I know that the moments fly by and the years are gone in a blink of an eye.
This week I have put away the school work, stepped away from my blog, turned off twitter, pulled out some of our favorite books and intentionally made the time with my children count.  I am looking for and planning moments to influence their hearts, their relationships with one another and with me.  I am being FAITHFUL to my word and to my purpose as a mom.
I am thankful for the gentle nudging of the Father...for His kind reminder that I have ample time, through HIM, to have a true heart connect with Sweet Hallie.  I am already seeing the fruit!  God is GOOD!
Do you have an area that you are striving to be FAITHFUL in?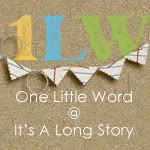 You can read the stories of other's Word for the year when you click the link!  ENJOY!
Katie