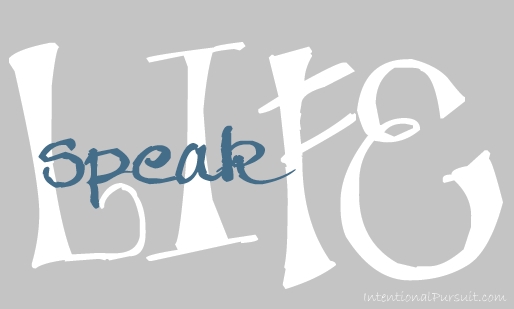 Words. They are the tools in which we communicate. They stir feelings, transfer thoughts and make tangible ideas. They are powerful. In them are Life & Death (Prov 18:21) As I read John 1:1-4, my heart is pricked. I have read these verses many times before and love the truth that spills forth that Jesus, the Word, was the Creator in the beginning and is the Light of the World  for eternity. As I read them this morning, my heart is welling over with gratitude and humble adoration for my King. Jesus IS the WORD...the spoken and written WORD of God. I am basking in this truth this morning...letting the familiar be anew in my soul once again.
The Word- Jesus -is the LIGHT...and the Light is LIFE.
I use words every minute of every day to express my thoughts, revelations, dreams, plans, and desires. I use them to instruct, teach, motivate and express love to those around me. Do I give Life to those who hear my words? Are my words, His Words? Scripture tells us the Word never returns void but goes forth until its purpose is accomplished. (Isaiah 55:11) Am I speaking and writing Eternal, Life-giving Words to my husband, to my children, to my family and friends? Do I send forth Life? Scripture is FULL of verses warning us of the death in our own tongue. Only through the power of the Spirit, which indwells me and makes me new (2 Cor 5:17), can I speak Life. Only through the blood of Jesus that covers my life, can I choose to bridle my tongue and speak Life Everlasting over my loved ones.
I pray the words on this canvas reflex the Word-the Light of Jesus that will illuminate your heart. I pray the WORD will bring you to a place of worship, forgiveness, beauty and peace. And then the Word, the Light, be LIFE to your marrow, food for your spirit and strength to your souls. Jesus- the Word, the Light is LIFE...everlasting Life
Words. In them are Life or Death. Choose to give Life. Choose to spread Light. Choose to speak Jesus over others and show them, through your words, the very love of Christ. Care for those around you with compassion on your tongue.Teach others to love with beauty on your lips. Bridle the harshness in your heart and allow the Spirit to pour out of your mouth love and compassion, grace and mercy...even to the unlovely. And then will TRUE Christianity be seen in our lives. Then will Christ's name be glorified through us. Then will those we come in contact with see and hear Jesus in us and wonder WHY we are different.
Let our Words be LIFE, and LIGHT so that all men would come to the saving knowledge of Jesus Christ...the Way, the Truth and the Life.