In this day in age, it is hard to WAIT.  We don't really have to wait on much. Food is fast, even at home... information can be gained at the speed of your typing...laundry and dishes are even quickly and fairly effortlessly washed.
Not only are we used to our microwaved life...we have a misconception about what it means to WAIT. Webster's 1828 Disctionary defines wait as:
1. To stay or rest in expectation; to stop or remain stationary, till the arrival of some person or event. 2. To stay proceedings, or suspend any business, in expectation of some person, event, or the arrival of some hour. 3. To rest in expectation and patience
WAIT doesn't mean to sleep, fidget or mindless pass time. It is the anticipation of an expectant event or person!  It takes effort...focus...to WAIT.
There are so many ideas, directions, situations and people I am praying about at the present time.  I know that the Lord is hearing my every word and is attentive to them all...so I have Peace...But I am WAITING.
Lead me in your truth and teach me, for you are the God of my salvation; for you I wait all the day long.  May integrity and uprightness preserve me, for I wait for you. Wait for the LORD; be strong, and let your heart take courage; wait for the LORD! Be strong, and let your heart take courage, all you who wait for the LORD! Be still before the LORD and wait patiently for him;  Wait for the LORD and keep his way But for you, O LORD, do I wait; it is you, O Lord my God, who will answer. And now, O Lord, for what do I wait? My hope is in you. I will thank you forever, because you have done it. I will wait for your name, for it is good, in the presence of the godly. For God alone, O my soul, wait in silence, for my hope is from him. I wait for the LORD, my soul waits, and in his word I hope; (Psa 25:5) (Psa 25:21) (Psa 27:14) (Psa 31:24) (Psa 37:7a) (Psa 37:34a) (Psa 38:15) (Psa 39:7) (Psa 52:9)(Psa 62:5)(Psa 130:5)
I am blessed beyond measure to KNOW that My Lord is my Salvation...my Peace...my Hope!  It is the reason I am anticipating...expecting...WAITING on Him to answer.
What are you WAITING in expectation for?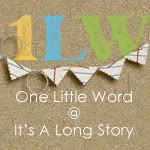 Katie